Hello! Nice of you to drop by. Would you like to find out more about us?
We trains live in our train sheds near the station. We have a train wash, a repair workshop and, of course, my train school. Our train children Timi, Cindy, Didi, Desi and Tobi are now slowly entering their train teenage years.
There are exciting times ahead. Especially since we cross paths with baddies from time to time. But I am sure Jack Railjet, Nora Nightjet and their friends will sort it out.
Yours, Teacher Dampf
More on this...
Timi Taurus and his friends
Train children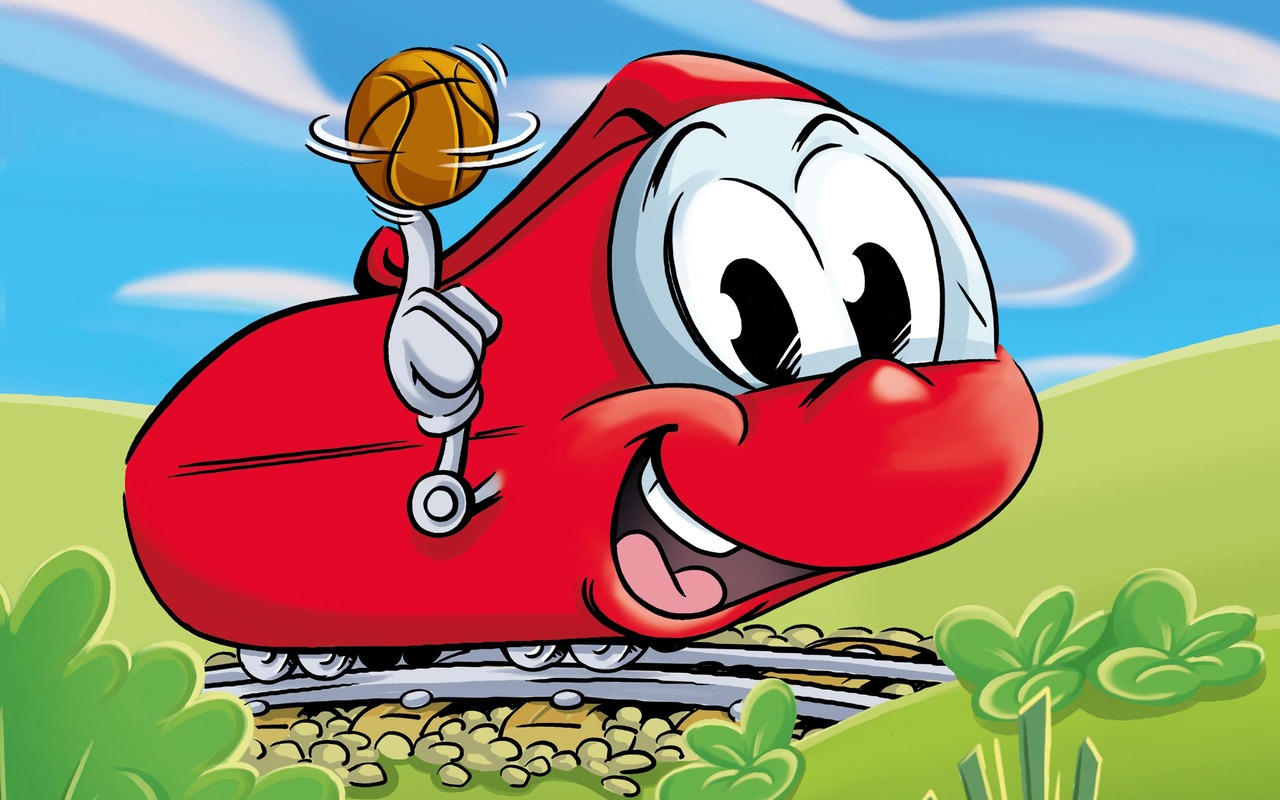 Timi Taurus - The sports fanatic

Timi is the leader of the train kids...or should we say the teenage train gang. Much to the annoyance of Cindy, who doesn't like to be told what to do. That's why he is in direct competition with Cindy and also likes to tease her - or is there more to it than that?

Timi loves sports. What he loves most is playing basketball with his best friend Tobi.

He just can't seem to sit still, which has landed him in a lot of trouble at school.

He and Didi are both passionate about playing console games... that is, if he can ever stay in one place for more than five minutes.

In his dreams he is a superhero, and Tobi is his sidekick. Didi takes on the role of the ingenious scientist who supports the two heroes with high-tech gadgets.

His most treasured possession is a collection of superhero figures. A ready-made target for Cindy, who likes to tease him that he still plays with dolls.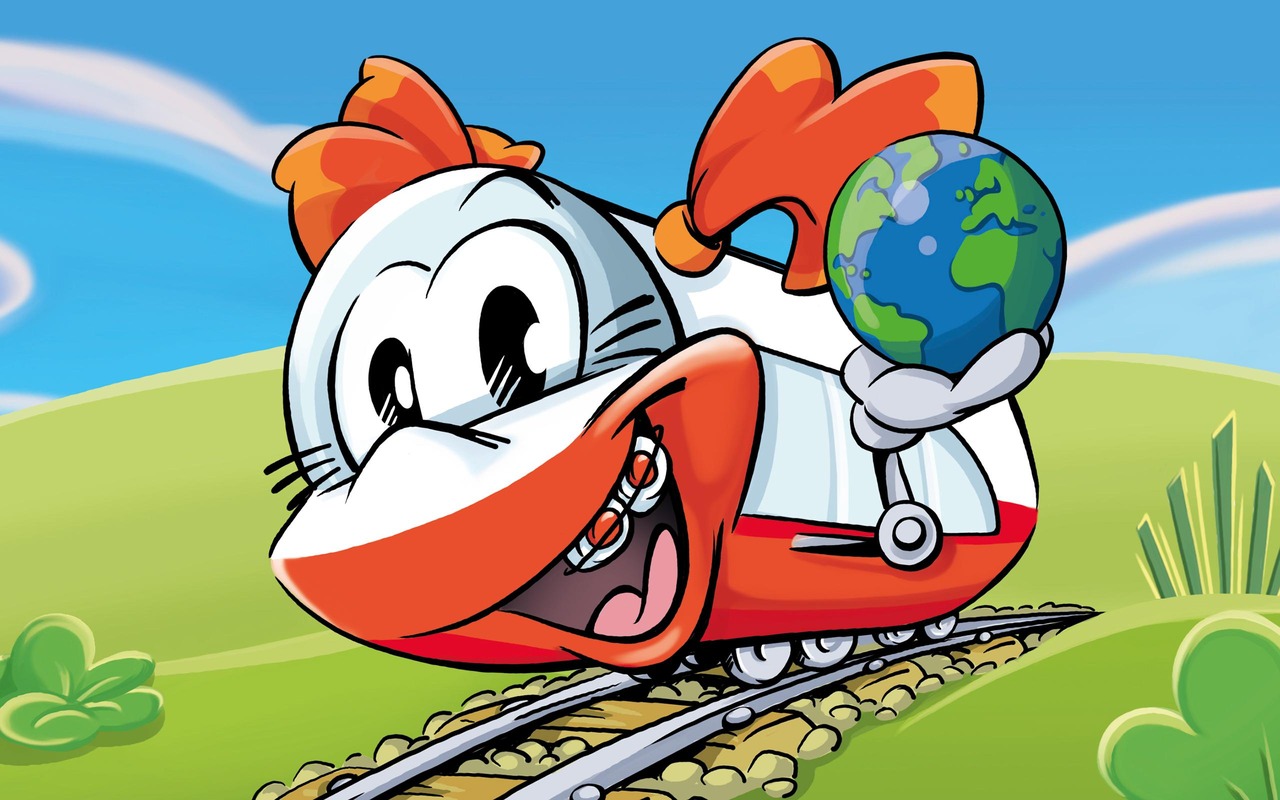 Cindy Cityjet - The little rebel

She is always polite, but is never shy to share her opinions.
Her favourite hobbies are painting protest signs and collecting signatures for petitions.

That's why there are always a few hand-painted signs in her front garden.
She is also a performance artist. Her sporting talents should not be underestimated either. She plays in the same basketball team as Timi and Tobi.

Cindy is not really one for group cuddles. She prefers to give people the cold shoulder. But in truth, she has a heart of gold. She will always help everywhere she can, even if she does it in secret and asks for no thanks.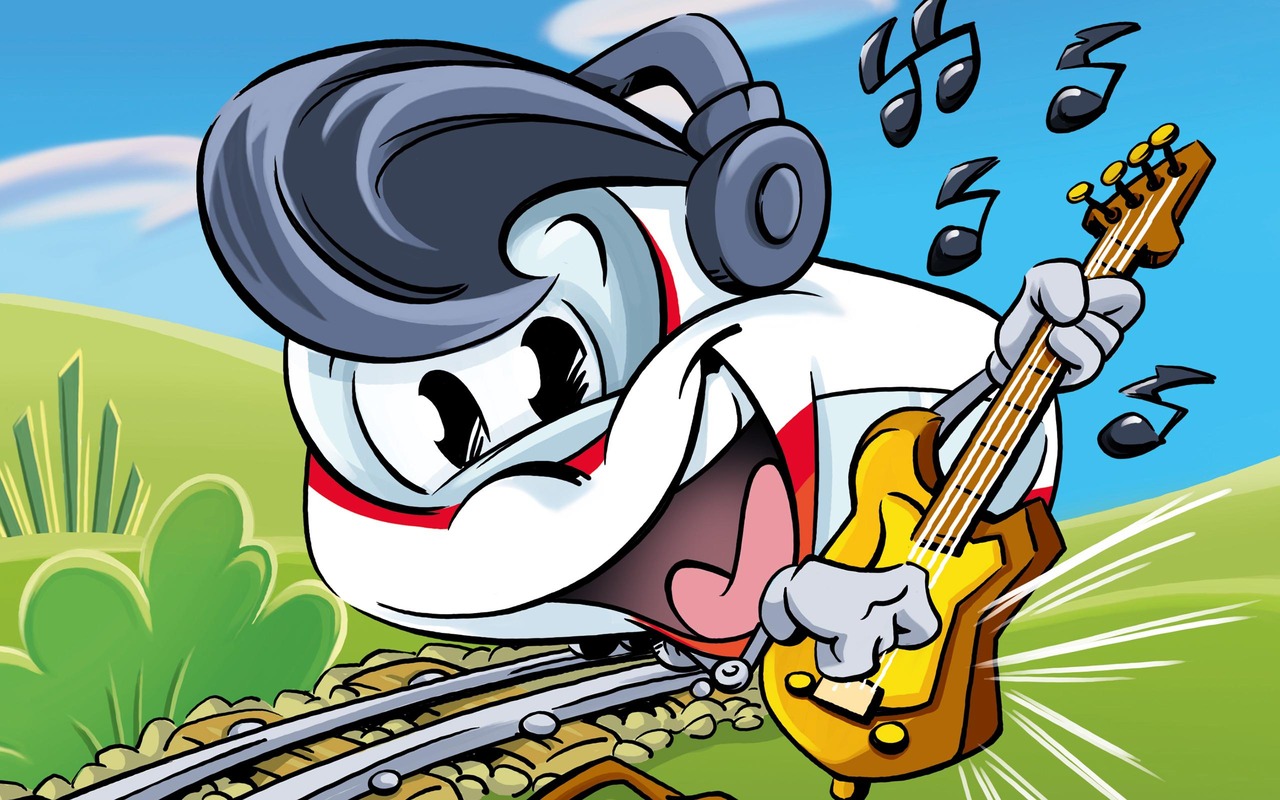 Tobi Talent - The rock star

He really lets it rip when he plays his electric guitar. It's no wonder that the girls melt away when Tobi really rocks out. (He even wrote a ballad for Desi, although he keeps it a secret). Unfortunately, he doesn't always hit the right note (his voice is breaking), but that never dampens his enthusiasm. You rarely see Tobi without his cool headphones, because you can't do anything without music.

He is particularly proud of his pompadour haircut, which he can gaze at in the mirror for hours on end.

He always has his comb at the ready to shape the curl (it becomes a tick when he's nervous).

Timi is his best friend. They play together in the basketball team.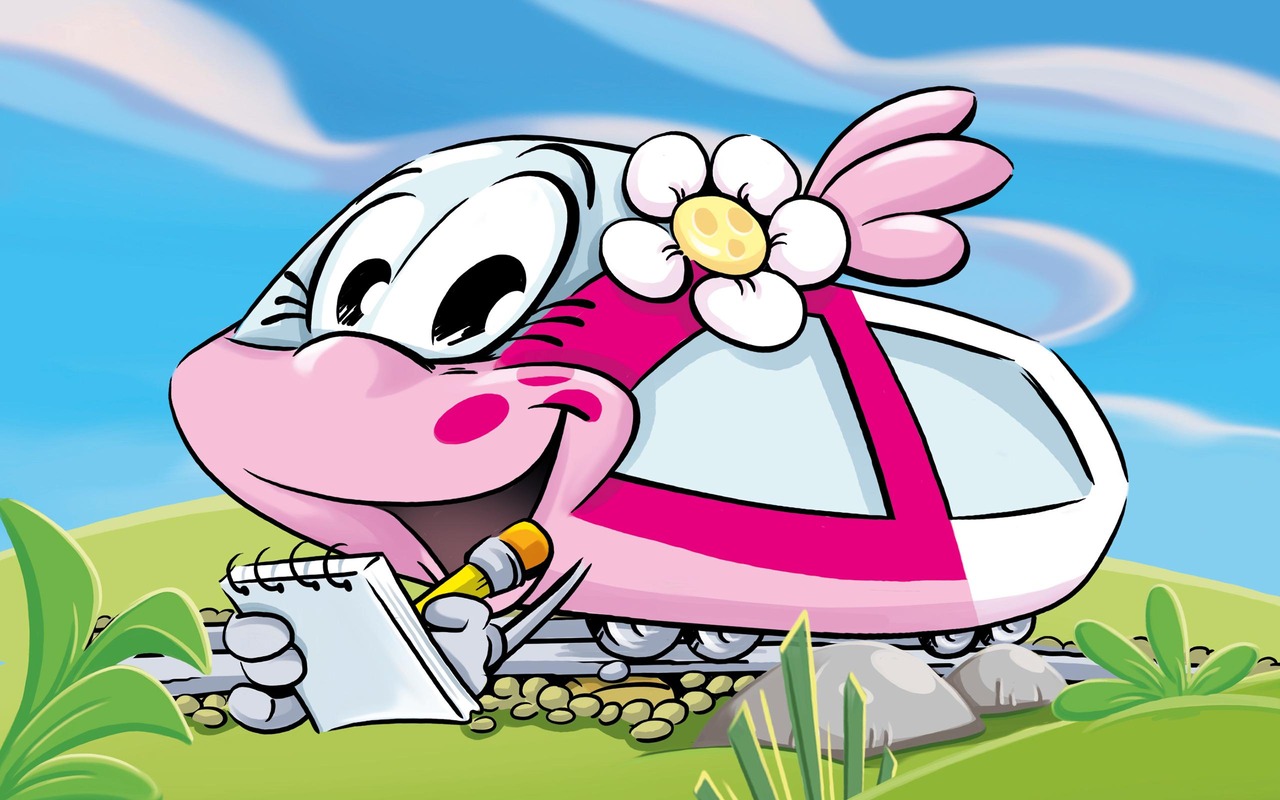 Desi Desiro - The princess

She loves pink, glitter, rainbows, unicorns and just about anything that is good for cuddling.

Desi is always up to speed on the latest gossip.
Do you want to have a secret made public? Tell it to Desi! The sweet little mouse doesn't mean any harm at all, it's just that she simply can't keep anything - even secrets - to herself. She doesn't like and indeed cannot cheat at all.

Desi is very caring. If someone has a little ache or even a heartache, Desi is there to help. Nobody sticks plasters on so tenderly and nobody is a better listener.

Desi's writing talent is also not to be sniffed at. Her dream is one day to win the Nobel Train Prize as a roving reporter. That's why she always listens carefully when someone has something to say. She is the editor of the school newspaper.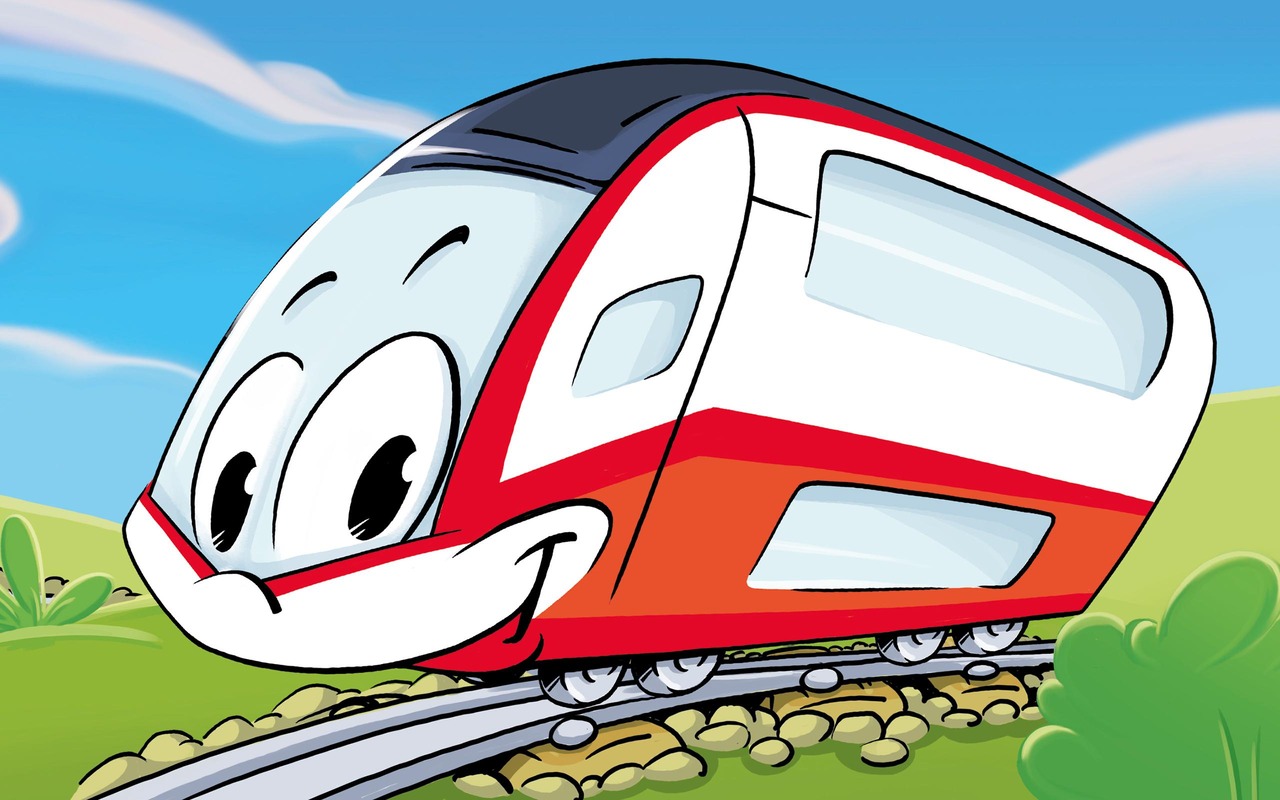 Didi Dosto - Genius and nerd

Like a Wikipedia on wheels, he is a true source of scientific ingenuity. Whether it's time travel, black holes, quantum physics or a blocked toilet, Didi has the solution!

His train shed is more like a laboratory. And it's not just his home that's hiding a few surprises... no, Didi is essentially a travelling laboratory himself. Where other trains just have two arms, Didi also has an endless supply of magnifying glasses, satellites, metal detectors and much, much more.

His biggest dream is to be the first train on Mars.

When he's not inventing something, he's working away on his PC or playing console games.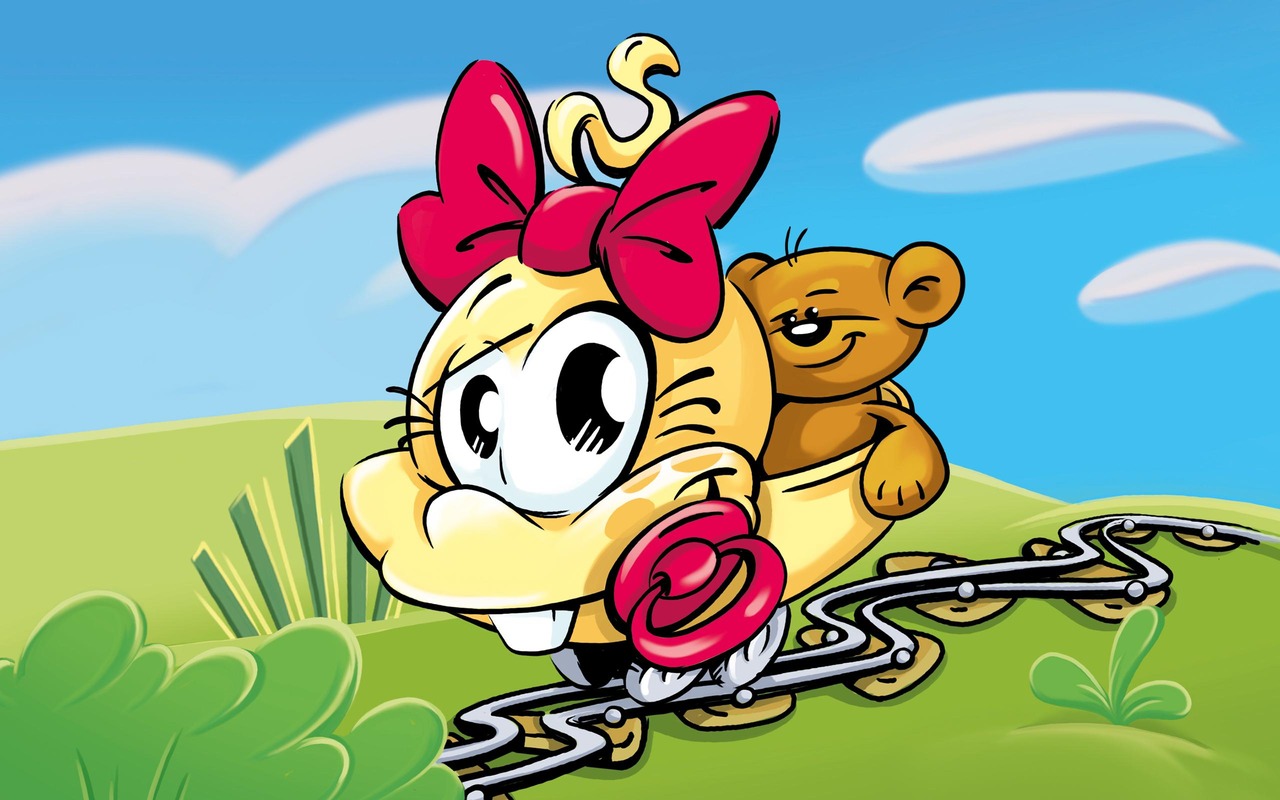 Little Draisine - The youngest

Behind the blonde-haired angel hides an adorable little devil. Little Draisine has a will of steel. Her tantrums are legendary and her screams can shatter glass. Once she is in a rage, only Desi can calm her down again.

There is nothing anyone can do without "Bear", Little Draisine's teddy bear. Even though Bear is only a cuddly toy, he is still completely fluent in baby. Of course, only Little Draisine can understand what he says in return. To everyone else, he's just an old teddy held together only by patches and baby spit.

Little Draisine has a unique milk tooth that allows her to gnaw or bite through anything - literally anything. It comes in useful when there is no can opener at hand.

Unfortunately, she indulges her urge to chew things rather too much. But what can you do - it's simply impossible to stay angry with Little Draisine for long.

An overwhelming hunger for cheese has got Little Draisine into trouble more than once.

Besides cheese, she loves animals (not to chew on, of course) more than anything - and animals love her.
Train adults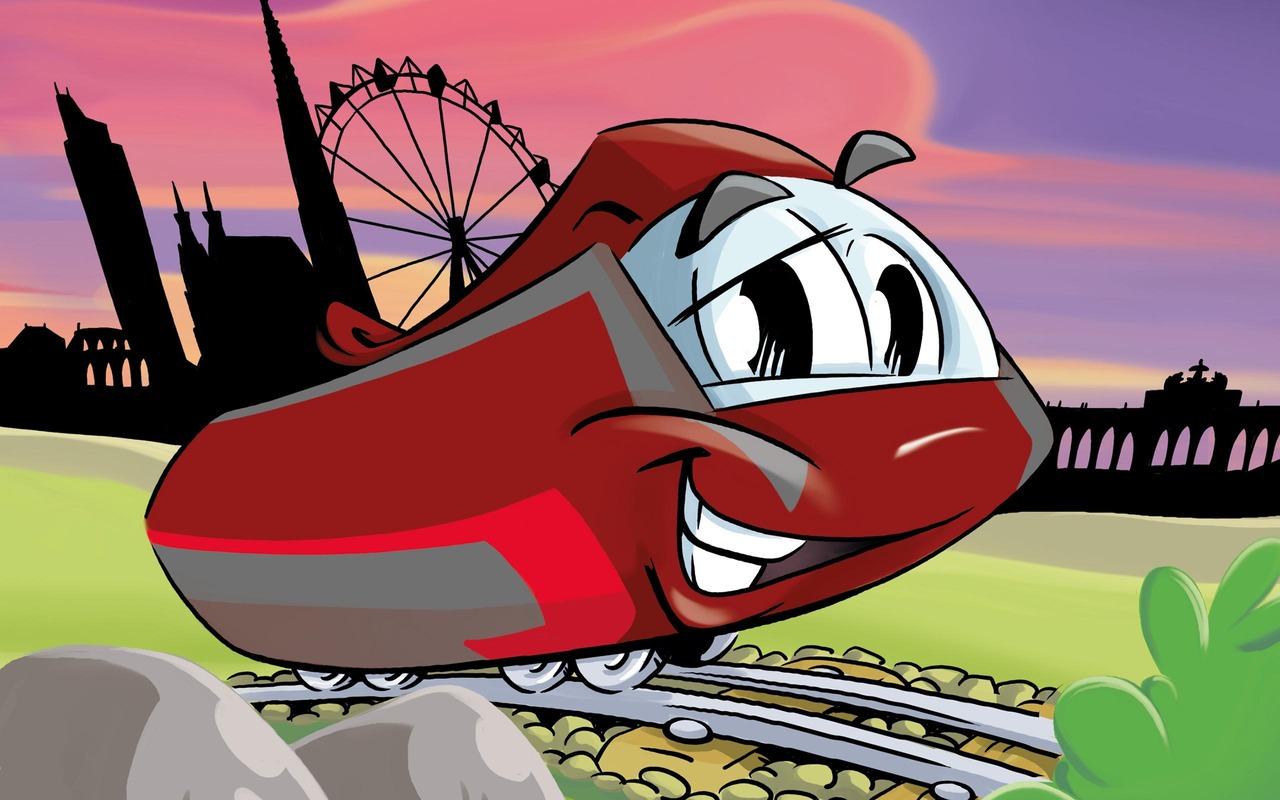 Jack Railjet - The superstar

Everyone knows him and everyone likes him. Always punctual and dutiful, he is a role model for us all.

Which doesn't exactly make his life easy. Although he loves the attention he receives, meeting all the demands placed on him is a heavy responsibility. It's a blessing that he has such great friends. He probably wouldn't manage without them. It's not always possible to please everyone. That's something that Jack has yet to learn.

His many fans make him very self-confident - maybe even a little bit arrogant. It's just as well that his best friends, Gustav and Piti, keep his feet on the ground. However, he doesn't like it at all when his pal Piti flirts with Nora, as he has a crush on her himself. Oh Nora... so self-assured and bold... will he ever be able to capture her heart? Unfortunately, he is an early riser and Nora is a night train, which means they usually miss seeing each other.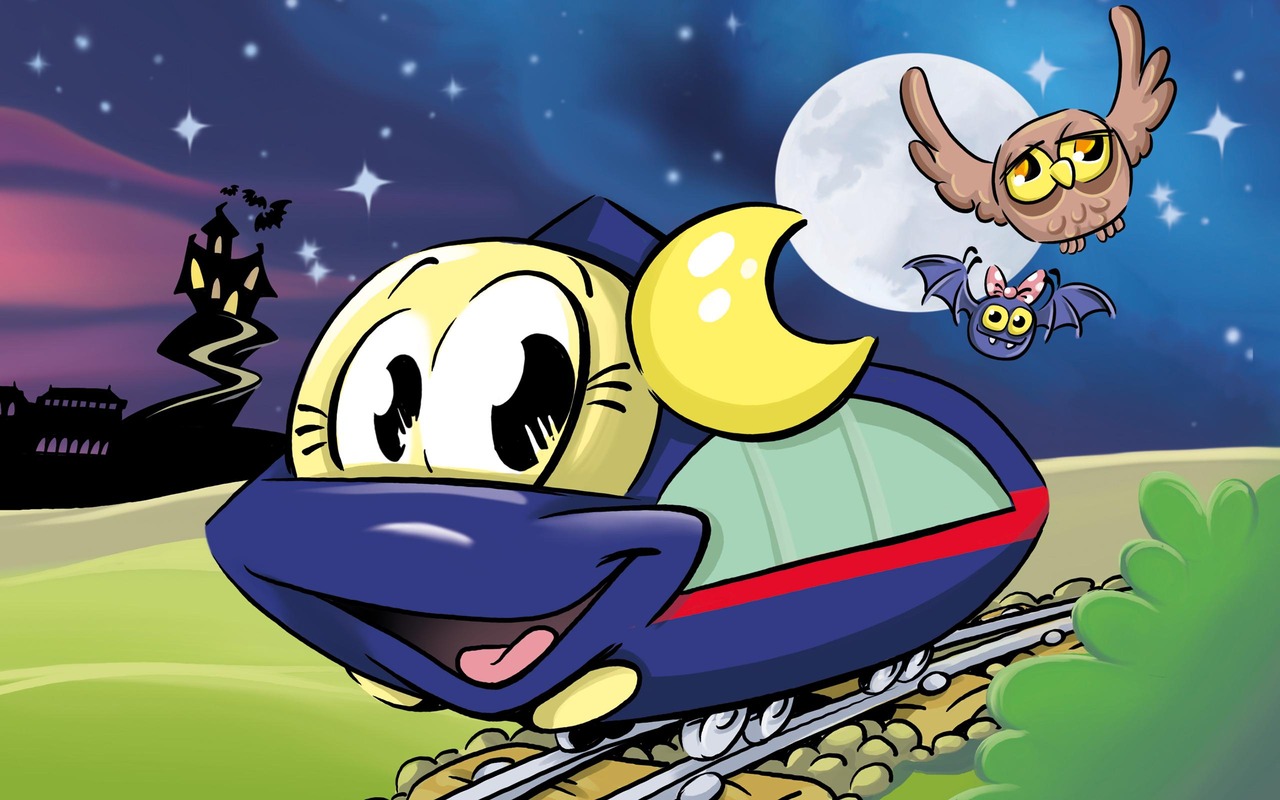 Nora Nightjet - The queen of the night

Shadows, ghosts, spiders, bats, mouldy ruins - what frightens most people is a source of delight for Nora.

Driving her passengers peacefully and safely through the night is, needless to say, a matter of honour.

With Nora in charge, none of the children have nightmares. She knows how to chase away bad dreams.

She uses her expert knowledge of ghost stories to dispel any fears. Much to her dismay, however, she has never encountered anything supernatural, but Nora has still not given up hope.

Her constant companions are Bubu, the owl, and Luziferia (Luzi for short), the bat.The two of them stick with her through thick and thin. Bubu is a slightly overweight layabout. Luciferia, on the other hand, likes to cause mischief.

Nora is a night train, which is why she sleeps during the day. This makes it somewhat difficult to stay in touch with the other trains. But she doesn't mind, because she has Bubu and Luzi.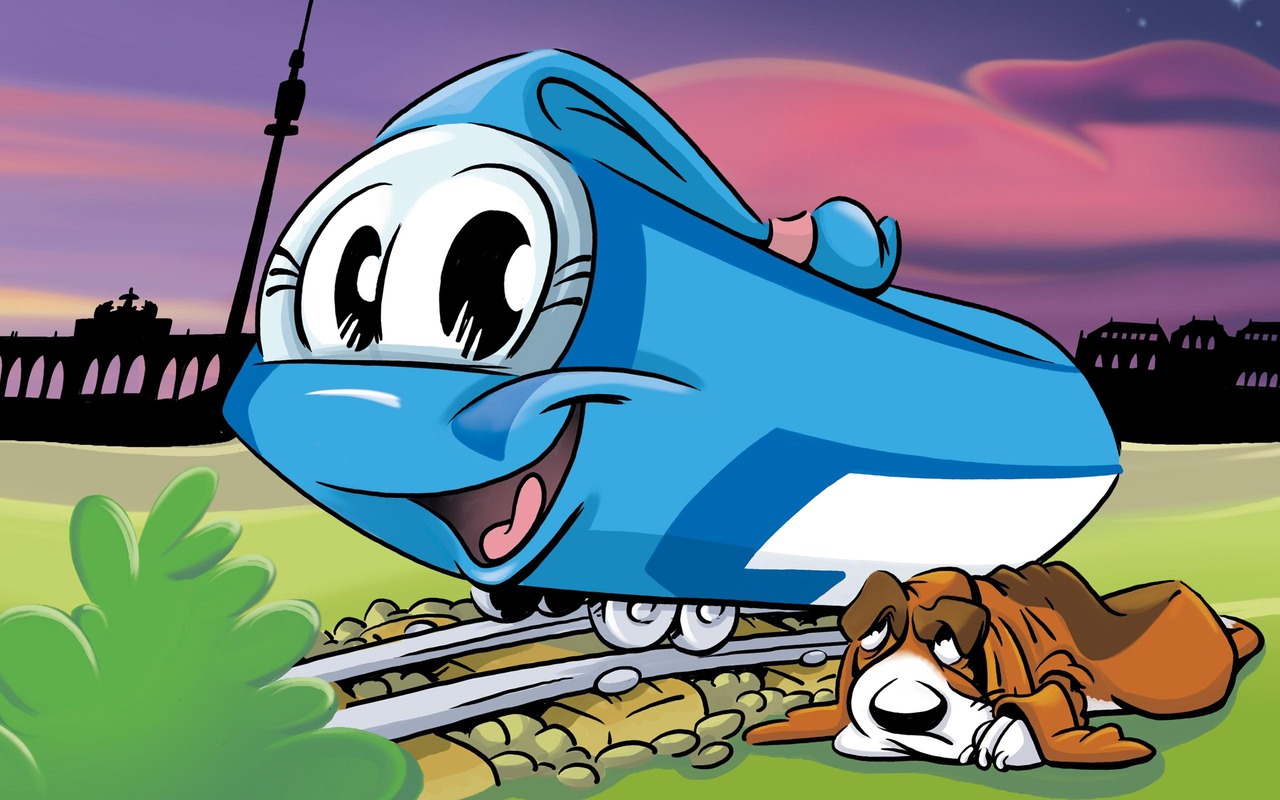 Jana Railjet - The lady of the world

Jana is, in short, simply stunning.

Elegant, distinguished and clever, she charms everyone she meets. She's also very practical:her handbag contains everything you could possibly need, be it lipstick, a tissue or a drill. How does she do it, you ask? No idea - you'll have to ask her yourself.

Jana loves puzzles and is a keen amateur detective. She solves every case thanks to her brilliant mind. Her greatest role model is Sherlock Holmes. She is also a master of disguise and deception.

As quirky as Teacher Dampf may be, Jana always likes to get advice from the old instructor. She also gets on very well with her cousin Jack and she too appreciates Didi's brilliant mind.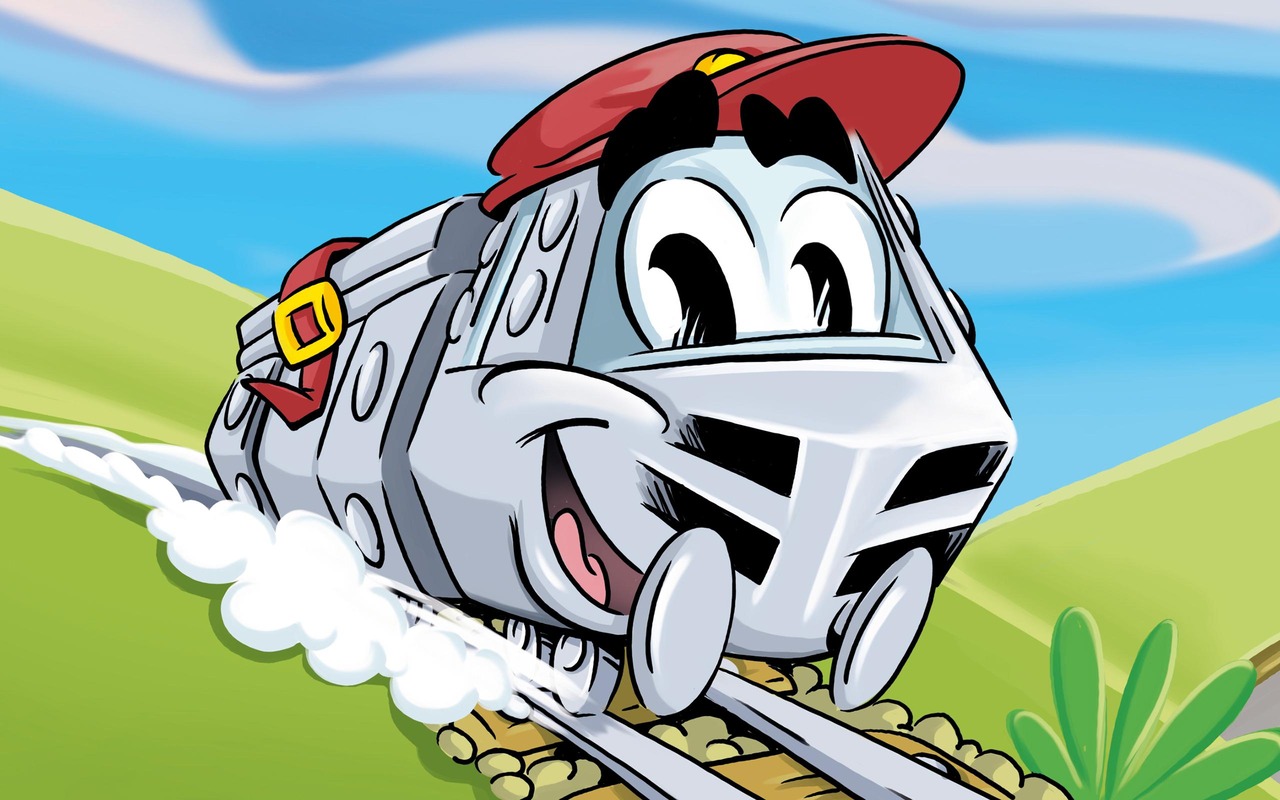 Gustav Goods Train - The gentle giant

Gustav is a freight train, which means no job is too difficult for him. He is an unshakeable optimist. Where others become stressed, he approaches things with a calm and level-headed attitude. That's why the other trains are happy to seek advice from him.

Gustav loves country and blues music.

He is a fan of the early 19th century, a time when trains were still at the forefront of technology.

That's why his train shed looks like a small museum.

An antique cannon stands in his front garden, which he loves to fire on every suitable and unsuitable occasion. Unfortunately, the old cannon is broken. As a result, there is only a loud bang, followed by a cannonball that rolls gently out of the barrel. This annoys Gustav greatly, but amuses the train children enormously.

When he's not exercising to stay in shape for his work, he loves to spend his evenings around the campfire with his best friends Jack and Piti.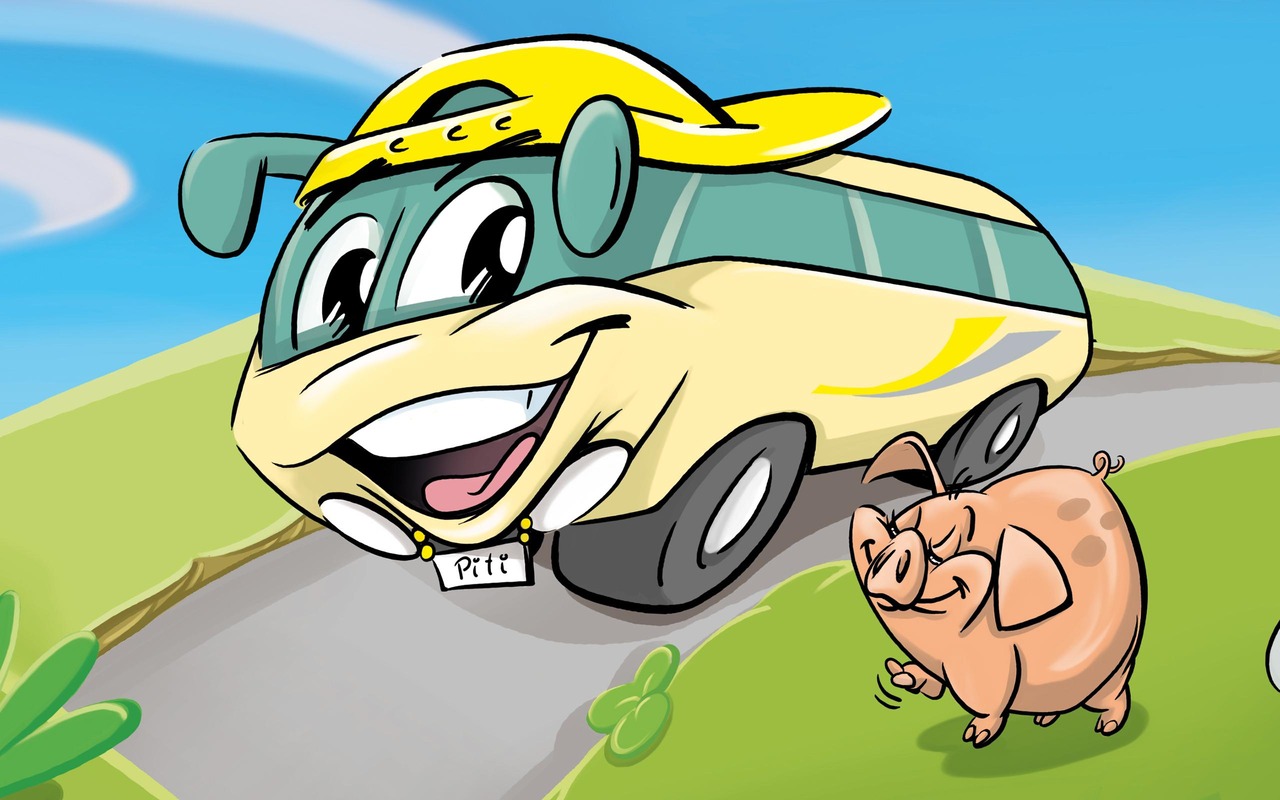 Piti Postbus - The outdoorsman

Piti loves the country life.

Since he is not a train, he does not live in a train shed like the others. He runs a small organic farm nearby. There he looks after a few chickens, pigs, cows, sheep, a stubborn old billy goat and a retired draught horse. And not forgetting his cat and dog, of course.

Piti is the leader of the scout group and often goes on outings with the train children. With him they learn everything they need to survive in the wilderness and how to conduct themselves properly in a natural environment.

Piti has an inexhaustible supply of bad jokes at the ready (that's not to say the jokes are grotty) but the train kids still find them hilarious.

He is a daredevil and likes to flirt a lot with Jana and Nora.

He likes to spend his free evenings with Jack and Gustav, packed snugly around the campfire.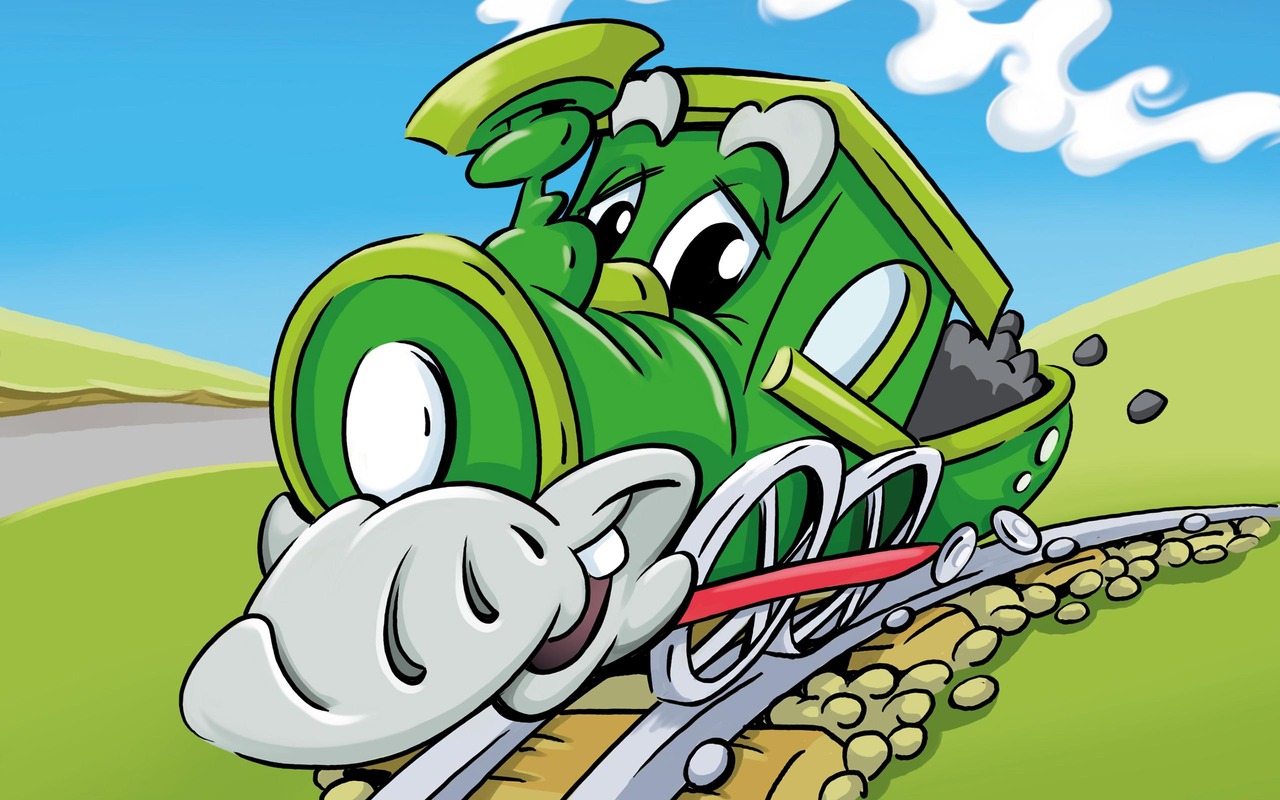 Teacher Dampf - The wise teacher

Where to begin, I wonder? You could be forgiven for thinking that Teacher Dampf has a few screws loose... or does he simply see things from a different perspective?

The fact is that everyone admires Teacher Dampf very much. He is the village elder, so to speak.

His wisdom is beyond dispute.

"Do this..." and "Do that..." are words you will never hear from him. Teacher Dampf is a storyteller. He offers anecdotes rather than answers. As absurd as these may seem at first, they actually make sense in the end.
These stories are often about fantastic adventures from his youth. Whether they can be believed or not... well... in the end it's only the result that counts, right?

Despite his quirky nature, or perhaps because of it, Teacher Dampf is an ideal mentor, passing on not only knowledge but social skills too.