From now on you have access to over 100 newspapers and magazines in digital form when travelling on Railjet trains and using Railnet and Railnet Regio*. Apart from that, the ORF TVthek still makes for best entertainment. Moreover, the portal has been completely redesigned and is now more user-friendly thanks to a new intuitive navigation.
Also new on board is fidelio, which lets you dive into the world of classical music with a monthly changing program.
* Railnet WiFi in the ÖBB Railjet, Railnet Regio WiFi in the ÖBB Talent and Cityjet
More on this...
Services on the Railnet
Travel info & Service
Travel preview: The following stops on your journey including real-time connections
Live map: Interactive map with the live position and speed of your train
Services: Information about your train, e.g. equipment and features
ÖBB TV: Collection of exciting ÖBB videos
Entertainment
Newspapers: The most recent editions of over 20 regional, national and international publications
Magazines: Over 70 magazines, from economics and sports to fashion and cooking
ORF TVthek: From documentaries and crime shows to comedy and sports
fidelio: Your online platform for classical music with a monthly changing program (only in ÖBB Railjet)
And this is how it works...
Lean back and log into the ÖBB WiFi network using your smartphone, tablet or laptop PC (network name: OEBB).
Just click on "connect now" and dive into the new Railnet or type railnet.oebb.at into your browser.
Fair use
Your surfing experience depends on the mobile communication coverage and the usage behaviour of fellow passengers along the line. Therefore, in the sense of fairness, please refrain from using data-intensive internet services (Youtube, Netflix etc.).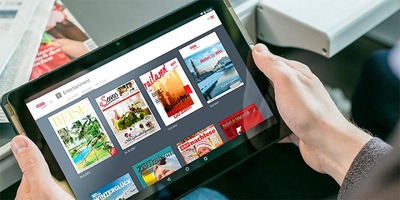 How the WiFi service on the train works
To provide you with an internet connection via the train's own WiFi network, antennas on the ÖBB Railjet's roof bundle data signals from several mobile communications providers and make them available to you as an internet connection on the train through the ÖBB WiFi system. To allow for higher bandwidths, the system connects to several mobile communications networks at the same time.
Terms of use
By agreeing with the terms of use of the ÖBB WiFi, you shall be obligated to not use this internet access for actions violating laws or public decency, endangering safety or disturb other passengers. This is why the ÖBB WiFi system blocks access to certain websites, for example websites with violent or hateful content.
Websites are blocked automatically which is why the system does not achieve complete accuracy. Should you think that the blocking of a certain website was unjustified or that an accessible website should be blocked, please contact the ÖBB customer service.