Do you, as a congress organiser, highly value sustainability and would also like your participants to arrive and depart in a climate-neutral manner?
Then we have just the thing for you:
The ÖBB Congress Account: a summary of the benefits
For organisers: With the ÖBB Congress Account you make it possible for your participants to book a climate-friendly, hassle-free and discounted journey to and from the congress. They can use it to book and pay for discounted travel to the congress themselves.
Value for money: By registering the participants for the ÖBB congress account, they receive a 22% congress discount on the ÖBB standard price, 10% on the international standard tariff and a special price for ÖBB Nightjets.
Comfortable: Participants can get ready, relax or enjoy a fine meal in the on-board restaurant on our comfortable trains, such as our Railjets.
We also offer "At Seat Service" in 1st Class and Business Class of the Railjet, in addition to a high level of comfort.
Transparent: Participants can use the ÖBB congress account to book and manage their journey to and from the congress according to their own wishes.
We offer several payment options: credit card, online bank transfer and PayPal.
Clear: After the congress, you will receive a report on the CO² saved on all trips booked via the congress account. You can use this in your sustainability report, on your website or for follow-up reports.
Investment: For the use of the ÖBB Congress Account a service fee of € 500.- per event is charged.
Test the new ÖBB Congress Account right away and receive a 50% introductory discount until 31.12.2023 and save € 250.- per event
More on this...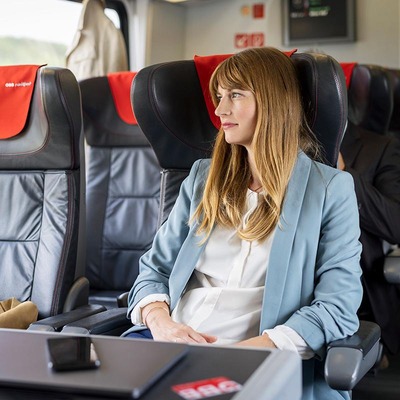 How to get your ÖBB Congress Account
You will receive an offer from the key account managers in your region.
After you have accepted the offer in writing, we will set up your congress account and send you the registration link and a TAN code for your participants. We will also provide you with standard texts containing all the important information and instructions for your participants.
Your participants must create a new ÖBB account in your congress account by means of a registration link and TAN code, using an e-mail address that is not yet registered with ÖBB.
Only travel that takes place max. 3 days before or after the event and serves the purpose of travelling to or from the event is valid.
Four days after the event, all accounts will be closed and deleted.
You, as the organiser, will then receive a report on the CO² savings of all trips booked via the congress account.
If you have any questions regarding the ÖBB Business Account, please contact our ÖBB Business Hotline at +43 (0)800 0800 11-6.
Do you already have bigger plans or questions about increased business mobility? Saskia Escuer Lopez is on hand to provide you with individual, expert advice and support.