No matter if you come from Switzerland, Germany, the west, the south or the north of Austria:
Simply change at Vienna's Main Station. ÖBB's regional trains will take you to Neusiedl am See in about 40 minutes, from which you can continue to Pamhagen/Fertöszentmiklos or in the direction of Eisenstadt/Sopron.
Neusiedl's See Radweg and Windradweg bicycle routes are only a few hundred metres away from the modern, barrier-free Neusiedl train station. Most trains also allow you to take your bicycle with you: If you travel on a Railjet or EC/IC or Euronight night trains, you need to reserve a place for your bicycle. Regional trains take your bicycle without prior reservation depending on the availability of the existing bicycle space
Bicycle tickets
If you want to travel with ÖBB and take your bicycle along, you will need a valid ticket for yourself, as well as for your bicycle. The tickets are available as single tickets as well as weekly or monthly passes with costs varying by distance. Bicycle tickets from Vienna to Pamhagen, for example, are € 2.- (weekly pass € 8.-, monthly pass € 20.-).
Renting a bicycle at a special rate
If you travel by rail but decide to leave your bike at home, you can use any ÖBB ticket to rent a bicycle at Bucsis Bicycle Rentals, located right next to the Neusiedl/See train station, at a reduced rate.
Experience the benefits of electrical mobility up close and make sure to reserve your e-bike soon! Information: www.fahrraeder-bucsis.at; Tel.: +43 (0)664-160 88 00.
Bicycle riders are recommended to rent their bikes at local business Bucsis Bicycle Rentals right by the Neusiedl am See train station. Present your valid ÖBB ticket and receive a special discount. A limited number of bicycles can be taken along on the train subject to prior reservation.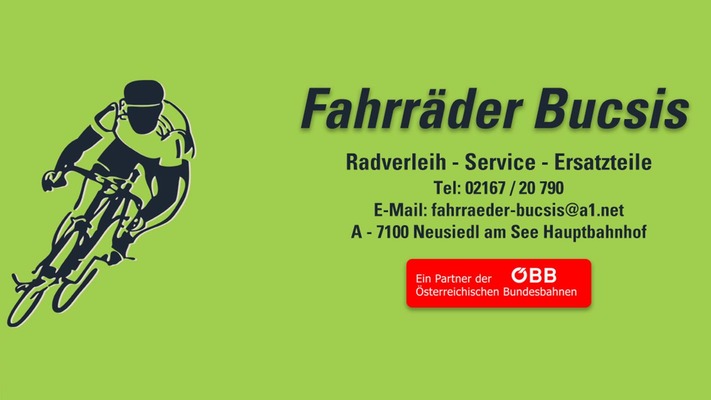 ÖBB Sparschiene
Did you know that with a Sparschiene ticket you can travel from Linz or Salzburg to Neusiedl am See for as little as € 14.90* and € 19.90* respectively? Please note: The offer is limited in quantity.
* From-price per person and direction, 2nd class, limited quantity, ticket only valid on specific train, must be booked online and via the ÖBB ticket app, can be booked up to 6 months (180 days) prior to the journey. Tickets cannot be cancelled or refunded. No discounts. The ÖBB Personenverkehr AG's terms and conditions apply. All information can be found at oebb.at/sparschiene and via the ÖBB Customer Service at 05-1717.