Innsbruck Card
If you're going to visit Tyrol, the region's capital should definitely feature on your personal bucket list. The Innsbruck Card is the key to unlocking Innsbruck's treasures: a huge variety of city sights and first-class mountain experiences await you at an unbeatable price!
The Innsbruck Card is valid for 48 hours and gives you the freedom to organise your stay exactly as you wish and to experience the very best that the alpine-urban city has to offer.
For example, it gives you free entry to a range of 22 museums and attractions. The Tyrolean state museums, the Tyrol Panorama, the Bergisel Ski Jump and many other attractions give you overviews of and insights into a fascinating world spanning past, present and future.
And because the mountain experience is part and parcel of a visit to Innsbruck, the card includes one upwards and one downwards journey on selected mountain railways in and around the city.
As if all that wasn't enough, the Innsbruck Card gets you on the road! It includes public transport within Innsbruck and to the nearby town of Hall, the hop-on, hop-off Sightseer bus, the Crystal Worlds Shuttle to Swarovski Crystal Worlds in Wattens and three hours' Citybike rental.
Tip
For all those making a day trip or staying longer, there are also Innsbruck Cards valid for 24 and 72 hours.
This is how to enjoy Innsbruck's diversity individually!
Book ÖBB Plus now
Contact for accommodation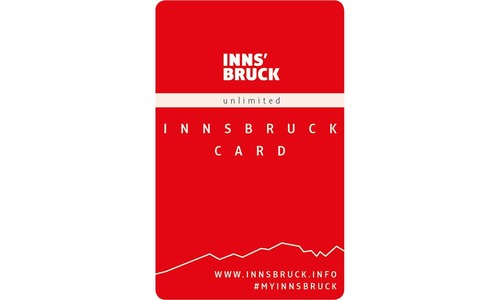 Included services
Destination station: Innsbruck
Note on the redemption of the ÖBB Plus
You travel as planned, and on either the same day or one of the two following days, you simply exchange the voucher directly at the touristic attraction.
Price overview (01.01. - 31.12.2023)
Price overview Innsbruck Card

| Offers | ÖBB Plus-offer | Local prices |
| --- | --- | --- |
| Adults | € 56.70 | € 63.- |
| Children 6<15 years | € 28.40 | € 31.50 |
Children under the age of 6 free!