Work, drink coffee, enjoy the view or relax? The Railjet (RJ), the most modern high-speed train in ÖBB's fleet, connects what is important to you. Free WiFi, on-board entertainment, an on-board restaurant, as well as quiet and family zones offer you ultimate travel comfort.
With a top speed of 230 kilometres per hour, the Railjet connects all of Austria, while also taking you directly to Germany, Italy, Hungary, the Czech Republic, Slovakia or Switzerland. With direct connections to Vienna Airport, the Railjet also connects you with the whole world.
Be it family holidays, leisure trips or business trips - just relax and enjoy your trip! As everyone has their own needs, there are three comfort classes available on the train: Economy Class, First Class and Business Class.


Symbol picture
Navigate backward
Navigate forward

You have access to the ÖBB Railnet, our on-board portal with an intuitive and user-friendly interface. We provide over 100 newspapers and magazines in digital form. Also the contents of the ORF TVthek provide best entertainment. Other exciting contents are the live map view, information about the train and videos about the ÖBB.
Enjoy food and drinks in the on-board restaurant - In our Business Class and First Class, the DoN team offers on-the-spot service as well as online ordering of food and drinks via Railnet in First Class. In our Economy Class, a mobile on-board service with snacks and drinks is available.
View and finish may vary depending on the car's material.
Connecting Austria and Europe
Railjet trains running at regular intervals connect Austria with its neighbouring countries. Two Railjets run between Vienna and Salzburg every hour. The fastest connection is the Railjet Xpress (RJX), which on the route between Vienna and Salzburg only stops in St. Pölten and Linz, before continuing to Innsbruck and Feldkirch every hour. Munich or Zurich can be reached every two hours.
The Railjet (RJ) also offers perfect connections, with additional stops in Tullnerfeld, Amstetten, St. Valentin, Wels, Attnang-Puchheim, Vöcklabruck and Neumarkt-Köstendorf. Railjet trains bound for Innsbruck and Feldkirch via Salzburg leave Vienna at hourly intervals.
Every hour, an ÖBB Railjet takes you from Vienna to Graz. Every two hours, a Railjet runs directly from Prague or Vienna Airport to Graz via Vienna.
You can also take the ÖBB Railjet to travel from Vienna to Villach via Klagenfurt. Twice a day, the Railjet continues beyond Carinthia all the way to Venice.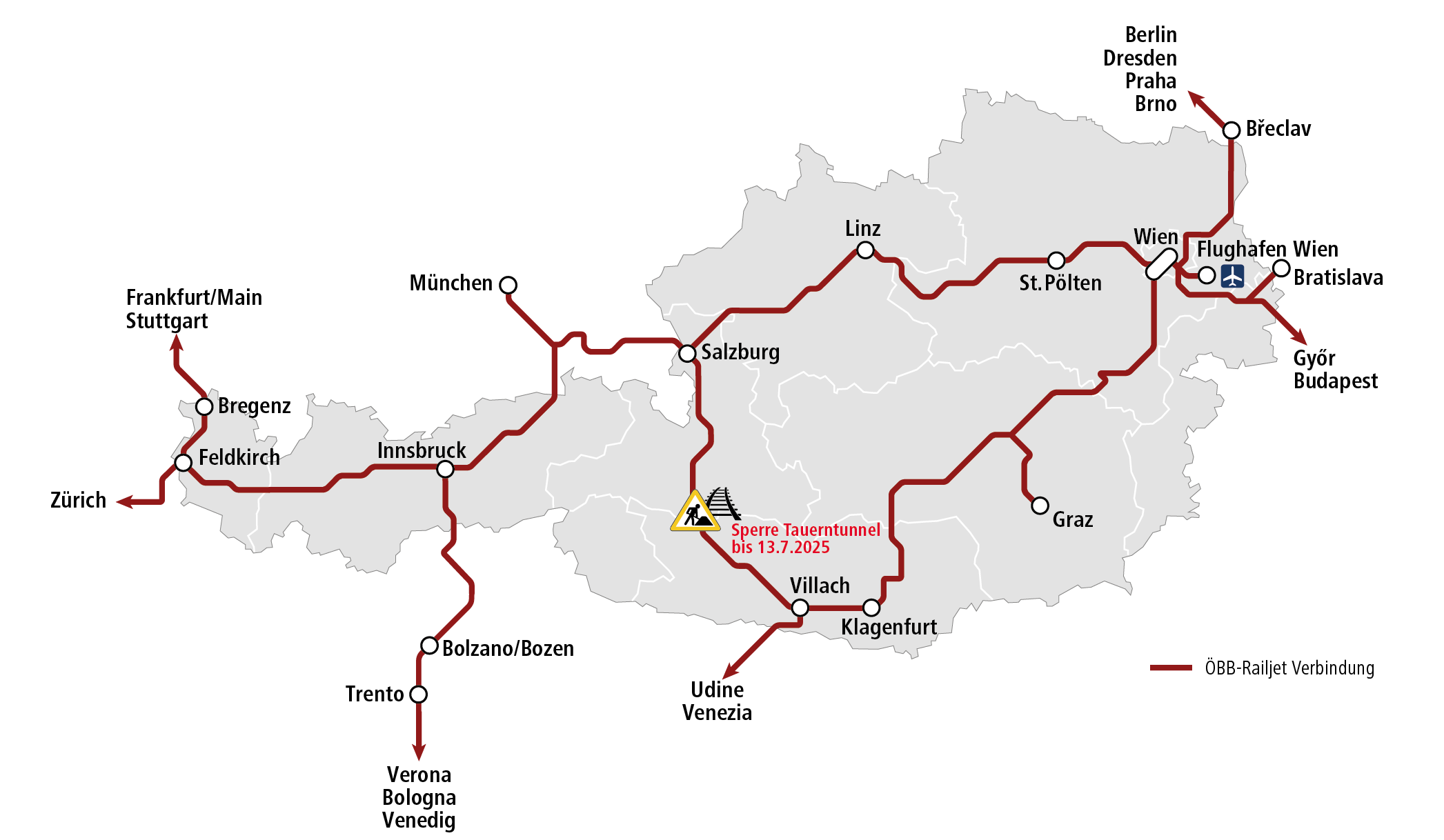 ÖBB Railjets travel to Vienna International Airport via Vienna Meidling and Vienna Central Station twice an hour. With Bregenz, Innsbruck, Salzburg, Linz and St. Pölten, the Railjet offers direct connections to Vienna International Airport from a total of five Austrian state capitals along the western route. There are 5 direct daily Railjet connections per direction for passengers travelling to Vienna International Airport from Graz.
Another 3 Railjet trains run on the Tauern route between Klagenfurt and Salzburg every day. This means that there is a direct Railjet connection from Klagenfurt to Munich and direct connections from the Tauern route (e.g. Gastein Valley) to Vienna via the western route.
Since 2018 Sovakia is also integrated into the Railjet network with a train pair running between Bratislava, Vienna, Salzburg and Zürich.
Facts on the ÖBB Railjet
Maximum speed: 230 km/h
Number of seats: seating capacity for 408 persons
Comfort categories: Business, 1st class, 2nd class
On-board restaurant: Yes
Bicycle spaces: min. 5
Parking for prams: Yes
Free Wi-Fi: Yes
Accessibility information
3 wheelchair spaces, wheelchair accessible toilet
Vehicle-side boarding assistance
Sockets for charging wheelchair batteries
Service call button, tactile elements
Acoustic and optical information
Severely handicapped spaces
Space for assistance dog