Whether you're heading for a business meeting, a shopping excursion or a weekend getaway, our new mobility services provide a convenient means of door-to-door transport to and from the railway station. Under the ÖBB 360° scheme, we are constantly complementing the public transport network with new, alternative services, which are easy to locate and book via the wegfinder app.
Tipp
Public transport, carsharing and more: the wegfinder app pools all the available mobility services on a single booking platform. A quick glance at the desired location tells you what services are currently available. Download the wegfinder App now.
Rail&Drive
Transfer, get in and off you go - never before has modern mobility been so straightforward. With ÖBB Rail&Drive carsharing, there is no annual fee, but instead locations throughout Austria and low rates based on the rental period and distance travelled. Electric cars are also available at many locations. The vehicles can be hired with or without a train ticket.
Attractive weekend rate
From € 1.60 per hour (depending on the category), an (e-) vehicle can be booked on weekends, e.g. for excursions or leisure activities. The weekend rate applies from Friday 12:00 p.m. to Monday 8:00 a.m.

Tip
If you have an ÖBB Vorteilscard or ÖBB Österreichcard and are registering with ÖBB Rail&Drive for the first time, you will receive a credit amounting to € 40.- (for the Vorteilscard) or € 60.- (for the Österreichcard).
Travelling by e-scooter
In cooperation with our partner TIER, we are offering our passengers a new, environmentally friendly and independent solution to make the journey between the train station and your home that bit easier. TIER e-scooters can already be hired in the following cities: Innsbruck, Klagenfurt, Korneuberg, Linz, Villach, Wels and Vienna. Dedicated e-scooter parking zones have also been introduced at the main railway stations in Vienna and Villach. Booking an electric scooter couldn't be easier with the wegfinder app.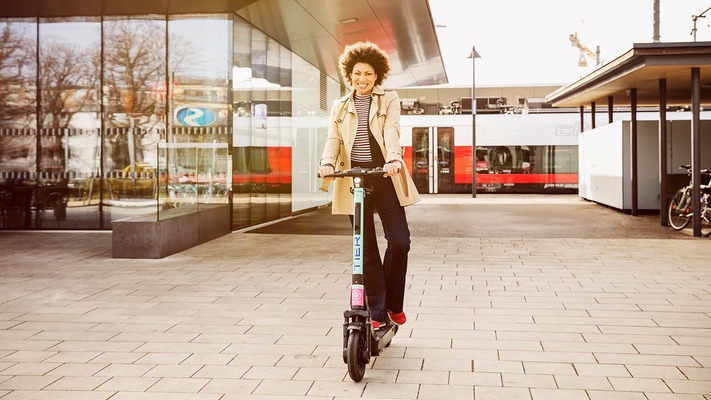 Cycling with nextbike
If you prefer to use environmentally friendly pedal power to enjoy your surroundings, you don't need to take a bike with you on your next outing: at almost 60 ÖBB railway stations in Lower Austria and Burgenland, you can hire one from a nextbike rental stations. For sustainable experiences at an affordable price.

E-bikes from Green4Rent
If you prefer a bit of assistance with pedalling or have something heavy to carry, Green4Rent is the ideal solution. E-bikes and cargo e-bikes can be hired at around 80 locations throughout Austria. In Vienna, there are currently 4 rental stations, and quality bikes can also be hired in the surrounding area, for example in Korneuburg.